A typical installation consists of a small radio and antenna that are externally mounted on the roof of your home or somewhere on your property and are designed to receive internet wirelessly from one of our local transmission towers. 
Obstacles such as dense foliage or buildings could impact your line of sight so our installers will work to find a location which enables the strongest signal while being as unobtrusive as possible.
An ethernet cable is run from the radio to the inside of your home which will connect to a POE injector (a device that plugs into a power outlet).  There is an additional ethernet port on the POE that can be used to plug in your personal computer or router.  
In order to properly connect to the internet, your device will need to be programmed with static IP's. These will be given to you at the time of the installation and also sent via email for your records.
Installation Materials
A standard installation will use a Ubiquiti Powerbeam (Diagrams 1 and 2).
Longer range installs or installs with lower throughput could require the use of a Ubiquiti RocketDish with integrated Rocket Radio. (Diagrams 3 and 4).
J Arm or Pipe to Pipe Clamps and Shielded, outdoor-rated, Cat5 Ethernet Cable.
Diagram 1
Ubiquiti Powerbeam

Dimensions: 16.5" diameter

Weight: 3.8 pounds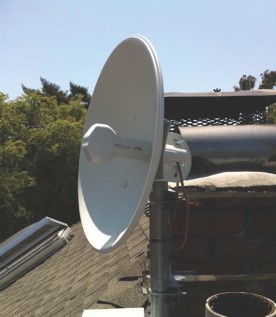 Diagram 2
Ubiquiti Powerbeam

Dimensions: 16.5" diameter

Weight: 3.8 pounds
Diagram 3
Non-penetrating Roof Sleds are 35.25 square inches  
Diagram 4
Ubiquiti RocketDish and Radio Combination

Dimensions: 25.5" in diameter

Weight: 22.7 pounds (including radio)
Installation Instructions
The installer will leverage an existing vent pipe on the roof, if available, for mounting the radio. (As shown in Diagram 2)
If no pipe is available, the installer will leverage another secure object to mount the reflector (brick chimney, roof eave, etc.), or will drill into the fascia board.
**Special non-penetrating roof sleds can be used if desired. Sleds are placed on a rubber mat and weighted down by six cinder blocks, thus requiring a flat roof for use. (See Diagram 3)
Once the equipment is secure, the installer will run a shielded cat5 cable into the building leveraging a pre-existing hole or vent. If such a pre-existing hole does not exist, the installer will need to drill a new hole for the cables, which will then be sealed to avoid any potential water leaks.
The Cat5 cable will enter the customer's premise and connect to a Ubiquiti power injector which will be plugged into a standard AC wall outlet or surge-protected power strip (desired).